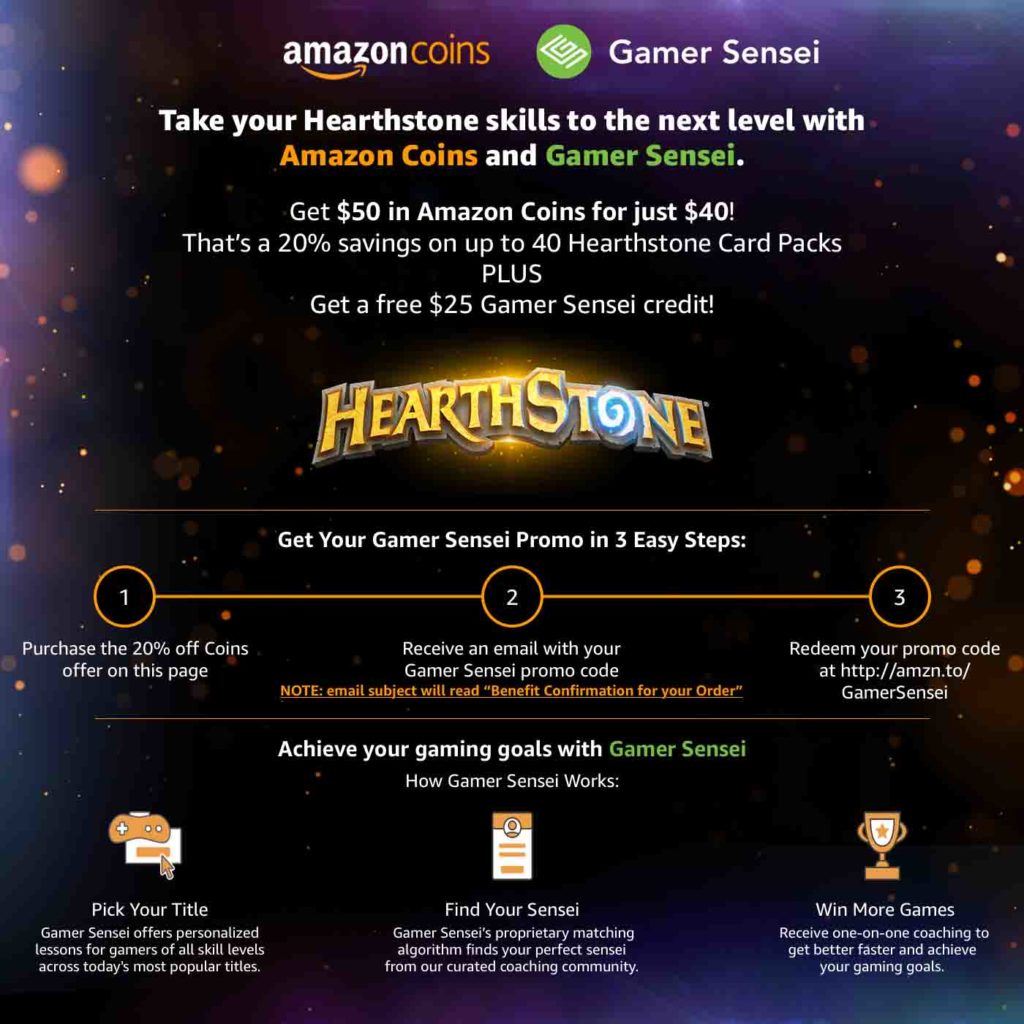 Gamer Sensei promo season at Amazon now. Customers get 20% off ( free $10) when purchase $50 Amazon Coins with promo code '7PFAYOJ7V', and receive another promo code for $25 Gamer Sensei credit. It's easy to benefit from this Amazon Coins promo through the following three steps:
After your qualified Amazon Coins purchase, you will receive an email from Amazon with an another promo code.
Copy the promo code in the email to gamersensei.com to redeem the $25 Gamer Sensei credit.
This promo Terms & Conditions are the same as the Be Coinstoppable for Amazon Coins, customers need to apply the promo code in a limited time (before June 1, 2018). To learn more about Amazon Coins, you can see this post "Where to get free Amazon Coins and the promo codes for savings on games?".

[pullquote]That's 40 game Kobolds & Catacombs card packs for extra 20% off, and get a free session of coaching from a Hearthstone Esports Pro[/pullquote]
[pullquote]Get $10 off $50 Amazon Coins plus free $25 Gamer Sensei credit right now![/pullquote]
[pullquote]That's 40 game Kobolds & Catacombs card packs for extra 20% off, and get a free session of coaching from a Hearthstone Esports Pro[/pullquote]
[pullquote]Amazon Appstore brings you extra savings on Hearthstone card packs and $25 credit towards an Gamer Sensei eSports lesson.[/pullquote]
[pullquote]For a limited time in this April, the Amazon Appstore is offering the promotion for an extra 20% discount on purchases of $50 (5,000) Amazon Coins – that's a $50 value for spending of just $40, and plus a free $25 to your Gamer Sensei account.[/pullquote]
[pullquote]By using Amazon Coins you can get extra discounts of up to 25% off on App games and in-game item purchases across the Amazon Appstore. Learn how you can use Amazon Coins to save on Hearthstone, and ready to earn Amazon Coins? Click here for more>>>[/pullquote]